Museum of the Fur Trade Quarterly, Volume 26, 1990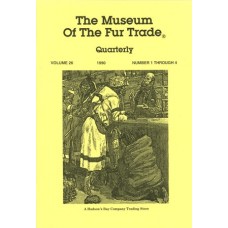 Product Code:
3393
Availability:
In Stock
Price: $15.00

Volume 26: Numbers 1-4 1990 bound volume only
26:1 The Traders' Dress; Quill Flatteners; Mexican Mustang Liniment; Collection Corner-Belgian Northwest Gun; Addendum to "Early French Kettles."
26:2 An Early Adventure in Alaska; Perry Davis' Vegetable Pain Killer; Voices from the Past; Collection Corner-British Indian Pistol.
26:3 The Trade Blanket in New France; Southwestern Frontiersmen's Clothing; Collection Corner-Hudson's Bay Company Officer's Pistols.
26:4 John Duncan's Comments on Canada 1818-1819; Searching for (Young) Old Jim; Some Secret Preparation: More on Perry Davis' Pain Killer; Collection Corner-Southern Rifle Accessories.
Write a review
Your Name:
Your Review:
Note: HTML is not translated!
Rating:
Bad
Good
Enter the code in the box below: