Museum of the Fur Trade Quarterly, Volume 20, 1984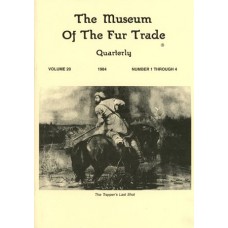 Product Code:
3348
Availability:
In Stock
Price: $15.00

Volume 20: Numbers 1-4 1984 bound volume only
20:1 The Trapper's Last Shot; Fighting the Smallpox Epidemic of 1837-38:The Response of the American Fur Company Traders (Conclusion); Early English Trade Knives; Collection Corner-1650 Dutch Trade Gun from New York; Hudson's Bay Hand Dags; Sage Observations.
20:2 Tea and Tea Chests; Swords in the Western Fur Trade; Sage Observations; Shawnee Costume 1788.
20:3 British Hardware for the Trade; Minahaskas and the Plains Warriors; Canvas Tipis.
20:4 Henry E. Leman-Riflemaker; The Pigeon Egg Bead; Pennsylvania Trade Goods 1683-1685.
Write a review
Your Name:
Your Review:
Note: HTML is not translated!
Rating:
Bad
Good
Enter the code in the box below: