Museum of the Fur Trade Quarterly, Volume 05, 1969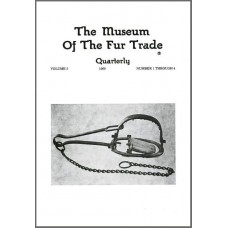 Product Code:
3222
Availability:
In Stock
Price: $15.00

Volume 5: Numbers 1-4 1969 bound volume only
5:1&2 The Transverse Pan Trap; The Fall of Michilimackinac; Collection Corner-Escopeta; J.B. Moncravie; Stinking Bear's Bonnet.
5:3 The Battle of Crow Butte; A Cree Bow with Sinew Backing: Its Possible Relationship to the Bows of the Arctic and the High Plains; Gun Worms; A Trader's License, Thomas S. Twiss.
5:4 Fremont's Trappers; Cards at the Rendezvous; A Breastplate of Dragons; Notes on Canadian Powder Horns
Write a review
Your Name:
Your Review:
Note: HTML is not translated!
Rating:
Bad
Good
Enter the code in the box below: