Gift Horse: A Lakota Story by S. D. Nelson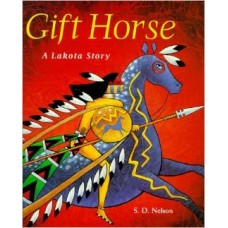 Product Code:
544
Availability:
In Stock
Price: $17.95

When his father gives him a Gift Horse marking the beginning of his journey to manhood, Flying Cloud names the horse Storm. The two become inseparable: they spend their days riding across the prairie, hunting deer, and roughhousing with the other boys and their horses. But becoming a man means Flying Cloud's life has also taken a serious turn. He must now learn the ways of his people and what it means to become a Lakota Warrior. One day enemies of the Lakota steal many of the tribe's horses, including Storm. Flying Cloud joins the rescue party. Will he prove he has the courage to become a true Warrior?
The bold, colorful illustrations, inspired by the style of the early Plains Indians, bring to life S. D. Nelson's exciting coming-of-age tale and provide a unique look into the lives of the Lakota.
Write a review
Your Name:
Your Review:
Note: HTML is not translated!
Rating:
Bad
Good
Enter the code in the box below: