Lige Mounts: Free Trapper by Frank B. Linderman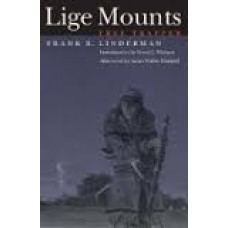 Product Code:
826
Availability:
In Stock
Price: $2.50

In 1822 Elijah Mounts, barely eighteen, shoulders his rifle and walks from his uncle's Missouri farm to Saint Louis to seek his fortune in the fur trade. Frank B. Linderman's 1922 novel is a first-person account, based on a true story and his own trapping experience, of a young man's coming of age among the trappers and Indians in remote Montana, on the upper reaches of the wild Missouri River. Befriended by Wash Lamkin, "Dad" to all who know him, "Lige" learns to live on the trail, trap the beaver, hunt the buffalo, speak the Cree language, and observe the customs of the country and its people. Enamored of the freedom, wildness, and beauty of the high plains and tied to the people at whose hands he has experienced kindness, welcome, and acceptance, he must ultimately decide whether he will return to civilization or choose the life of a plainsman. Frank B. Linderman (1869-1938) was a Montana miner, trapper, newspaperman, politician, and chronicler of Indian life and culture.
Write a review
Your Name:
Your Review:
Note: HTML is not translated!
Rating:
Bad
Good
Enter the code in the box below: