Zuni Fetishes by Frank Hamilton Cushing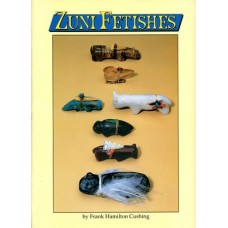 Product Code:
1351
Availability:
In Stock
Price: $8.95

Fetishes are carvings believed to have a spirit within, which can help the owner if used properly and respectfully. They may be used for hunting, the diagnosis and cure of disease, initiations, war, gambling, propagation, spells, and good fortune and usually bear the resemblance of an animal. Frank Hamilton Cushing's classic book is incorporated in this expanded 9" x 12" version, annotated by Mark Bahti, who provides supplemental text on Zuni life and art. Full-color photographs show modern fetish art by the Zunis, with commentary explaining the cultural significance of the works.
Write a review
Your Name:
Your Review:
Note: HTML is not translated!
Rating:
Bad
Good
Enter the code in the box below: