Joe Meek: The Merry Mountain Man by Stanley Vestal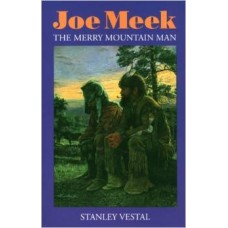 Product Code:
690
Availability:
In Stock
Price: $19.95

Born in Virginia, Joe Meek became a trapper, Indian fighter, pioneer, peace officer, frontier politician, and lover of practical jokes and Jacksonian democracy. He was a boon companion to two other larger-than-life mountain men, Kit Carson and Jim Bridger, and just as important in frontier history. In 1829, our nineteen-year-old hero joined the Rocky Mountain Fur Company of Jedediah Smith and the Sublettes and headed west on an odyssey of hair-raising high adventure and hilarious low comedy. For the next twelve years, the Rockies rang with tales of Joe's wild exploits. After the Last Rendezvous in 1840, he helped drive the first wagons to Oregon, served in the legislature of the provisional government, and went to Washington as a special envoy to President Polk. He later returned to Oregon to live out his days in the community that he helped build.
Write a review
Your Name:
Your Review:
Note: HTML is not translated!
Rating:
Bad
Good
Enter the code in the box below: