Dakota Women's Work: Creativity, Culture and Exile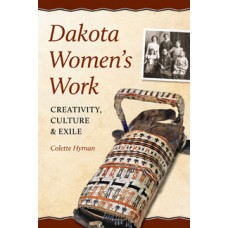 Product Code:
4095
Availability:
In Stock
Price: $19.95

Author Colette Hyman traces the changes in the lives of Dakota women, starting before the arrival of whites and covering the fur trade, the years of treaties and shrinking lands, the brutal time of removal, starvation, and shattered families after 1862—and then the transition to reservation life, when missionaries and government agents worked to turn the Dakota into Christian farmers. The decorative work of Dakota women reflected all of this: native organic dyes and quillwork gave way to beading and needlework, items traditionally decorated for family gifts were produced to sell to tourists and white collectors, work on cradleboards and animal skin bags shifted to the ornamenting of hymnals and the creation of star quilts.
Write a review
Your Name:
Your Review:
Note: HTML is not translated!
Rating:
Bad
Good
Enter the code in the box below: