With My Own Eyes : A Lakota Woman Tells Her People's History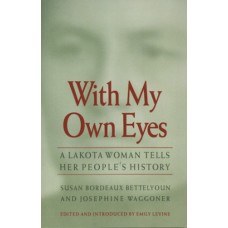 Product Code:
1315
Availability:
Out Of Stock
Price: $17.95

With My Own Eyes tells the history of the nineteenth-century Lakotas. Susan Bordeaux Bettelyoun (1857–1945), the daughter of French-American fur trader James Bordeaux and a Brulé Lakota woman named Hunjtkalutawin or Red Cormorant Woman, was raised near Fort Laramie and experienced firsthand the often devastating changes forced on the Lakotas. As Bettelyoun grew older, she became increasingly dissatisfied with the way her people's history was being represented by non-Natives. With My Own Eyes represents her attempt to correct misconceptions about Lakota history. Bettelyoun's narrative was recorded on paper during the 1930s by another Lakota historian, Josephine Waggoner. By Susan Bordeaux Bettelyoun and Josephine Waggoner, edited by Emily Levine. Paperback, 199 pages.
Write a review
Your Name:
Your Review:
Note: HTML is not translated!
Rating:
Bad
Good
Enter the code in the box below: