Trade Guns of the Hudson's Bay Company 1670-1970 by S. James Gooding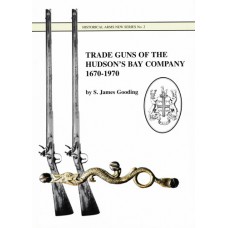 Product Code:
1218
Availability:
In Stock
Price: $40.00

Trade guns manufactured for the HBC from 1670 when the Company was established until well into the 19th century, were specially designed for the Indian trade. Many of their early characteristics were copied by the British government on gifts for their Indian allies and, beginning about 1780, copied by competing traders operating in Canada and the United States. This study provides a detailed history of the design and development from the earliest trade guns through 300 years of history. Based on archaeological evidence from the first Fort Albany constructed about 1674 and destroyed by the French in 1686, the early history can be documented and described. The extensive archives of the HBC have been called upon for descriptive text with hundreds of selected references to cover who made the guns, how they can be identified, when changes were introduced, how they were used, and what ammunition, accessories and equipment will be encountered. This important book will be of inestimable value to historians, artists, archaeologists, re-enactors, and collectors.10x7 inches, 160 pp., 140+ ill., hardcover.
Write a review
Your Name:
Your Review:
Note: HTML is not translated!
Rating:
Bad
Good
Enter the code in the box below: