The Soul of the Indian by Charles Alexander Eastman (Ohiyesa)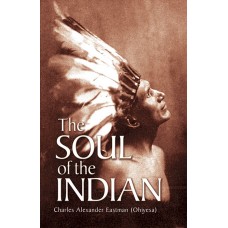 Product Code:
1156
Availability:
In Stock
Price: $4.95

Raised among the Sioux until the age of 15, Charles Alexander Eastman (1858–1939) was educated at Dartmouth and Boston University medical school. His extensive experience of both Native American and outside cultures makes Eastman ideally suited to interpret them for each other, and in The Soul of the Indian, he defines American Indian religious life as it existed before contact with external influences. Rather than a scientific treatise, Eastman has written a book, "as true as I can make it to my childhood teaching and ancestral ideals, but from the human, not the ethnological standpoint." His discussions of the forms of ceremonial and symbolic worship, the unwritten scriptures, and the spirit world emphasize the universal quality and personal appeal of Native American religion.
Write a review
Your Name:
Your Review:
Note: HTML is not translated!
Rating:
Bad
Good
Enter the code in the box below: