Eyewitness at Wounded Knee by Richard E. Jensen, R. Eli Paul, John E. Carter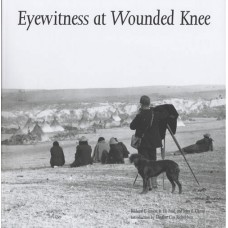 Product Code:
6219
Availability:
In Stock
Price: $29.95

Eyewitness at Wounded Knee brings together and assesses for the first time some 150 photographs that were made before and immediately after the massacre. Present at the scene were two itinerant photographers, George Trager and Clarence Grant Morelodge, whose work has never before been published. Each image has been digitally enhanced and restored, making the photographs as compelling as the event itself. Accompanying commentaries focus on both the Indian and the military sides of the story. Richard E. Jensen analyzes the political and economic quagmire in which the Sioux found themselves after 1877. R. Eli Paul considers the army's role at Wounded Knee. John E. Carter discusses the photographers and also the reporters and relic hunters who were looking to profit from the misfortune of others.
Write a review
Your Name:
Your Review:
Note: HTML is not translated!
Rating:
Bad
Good
Enter the code in the box below: