Fort Clark and Its Indian Neighbors: A Trading Post on the Upper Missouri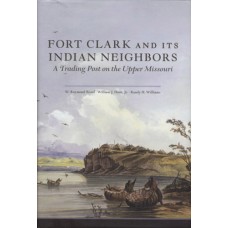 Product Code:
635
Availability:
In Stock
Price: $34.95

A thriving fur trade post between 1830 and 1860, Fort Clark, in what is today western North Dakota, also served as a way station for artists, scientists, missionaries, soldiers, and other western chroniclers traveling along the Upper Missouri River. The written and visual legacies of these visitors—among them the German prince-explorer Maximilian of Wied, Swiss artist Karl Bodmer, and American painter-author George Catlin—have long been the primary sources of information on the cultures of the Mandan and Hidatsa Indians, the peoples who met the first fur traders in the area. This book, by the anthropologist team of W. Raymond Wood, William J. Hunt Jr. and Randy H. Williams is the first thorough account of the fur trade at Fort Clark to integrate new archaeological evidence with the historical record. Because it has never been plowed, the site of Fort Clark and the adjacent Mandan/Arikara village are rich in archaeological information. The authors describe the environmental and cultural setting of the fort (named after William Clark of the Lewis and Clark expedition), including the social profile of the fur traders who lived there. They also chronicle the histories of the Mandans and the Arikaras before and during the occupation of the post and the village.By vividly depicting the conflict and cooperation in and around the fort, this book reveals the various cultures' interdependence. Hardback, 328 pages.
Write a review
Your Name:
Your Review:
Note: HTML is not translated!
Rating:
Bad
Good
Enter the code in the box below: