The Heirloom Tomato Cookbook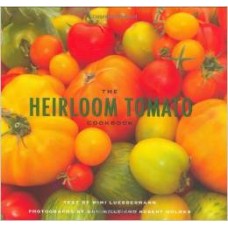 Product Code:
4793
Availability:
In Stock
Price: $16.95

Colorful, tangy, juicy, and sweet, heirloom tomatoes are the essence of summer! In The Heirloom Tomato Cookbook you'll find more than forty delicious, inventive recipes culled from Nothern California's top restaurant chefs and food artisans, who pay tribute to this colorful fruit each fall at Kendall-Jackson's Heirloom Tomato Festival. From soups and salads to main courses and deserts, heirloom tomatoes are as versatile as they are colorful, with dozens of different flavors, sizes and colors to explore.
Cooking and gardening expert Mimi Leubberman explores the hundreds of varieties of heirloom tomatoes now available in grocery stores and farmer's markets nationwide, and devotes a whole chapter to gardening instructions for growing your own. From the top twenty varieties favored by festival chefs - illustrated in a stunning photographic glossary - to more than two hundred varieties Kendall-Jackson cultivates in their extensive three-acre heirloom tomato gardens in Sonoma County, The Heirloom Tomato Cookbook is a wonderful resource for cooks and gardeners alike.
Write a review
Your Name:
Your Review:
Note: HTML is not translated!
Rating:
Bad
Good
Enter the code in the box below: