Ashkii's Journey by Verna Clinton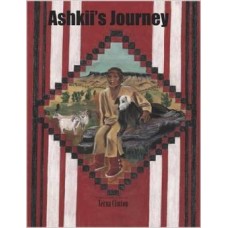 Product Code:
86
Availability:
In Stock
Price: $17.95

Ashkii's Journears is the story of a Navajo boy's journey into manhood in the years following the return of the Navajo people from their imprisonment at Fort Sumner. Ashkii and his faithful dog Booji hunted together to provide food for his aunt and his cousins. His cruel aunt rewarded him for his work with the scraps from the hunt and with ridicule. To survive, Ashkii remembered the stories his grandfather had told him about the years of hardship at Fort Sumner. "A small cup of grease soup was all we were given for food. When the soldiers ate, we had a chance to repair our shoes, gather 'azhii: juniper bark to place inside our moccasins to cushion our feet. By the time we arrived at Hweeldi, our moccasins were tattered and in need of repair."
These memories provided the strength Ashkii needed to overcome hardship and to withstand the cruelty of his aunt and cousins. When one of his grandfather's former students arrived in the Star Valley, Ashkii learned the value of his grandfather's teachings and he learned to become a man whos speaks with a deep voice.
Write a review
Your Name:
Your Review:
Note: HTML is not translated!
Rating:
Bad
Good
Enter the code in the box below: