Zuni Fetish Carvings by Dr. Harold Finkelstein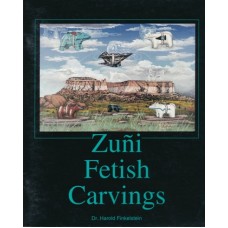 Product Code:
1346
Availability:
Out Of Stock
Price: $6.95

This booklet should help you recognize the difference between Zuni carvings and those by non-Zunis which are becoming more prevalent. Some are being misrepresentated as Zuni-made, often unbeknownst to the seller. Yet most of these carvings display few, if any, of the characteristics that distinguish Zuni fetish carvings.
A word from Dr. Harold Finkelstein: "My subject is fetish carvings of the Zuni people of New Mexico. My purpose is to convey to you the current status, as well as the scope and depth, of this new and growing art form. I trust you will appreciate the beauty, variety, and vibrance of Zuni fetish carvings."
Write a review
Your Name:
Your Review:
Note: HTML is not translated!
Rating:
Bad
Good
Enter the code in the box below: