Spirits in the Art by James A. Hanson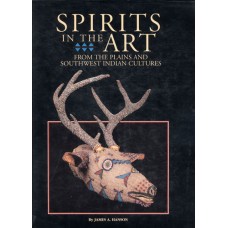 Product Code:
1173
Availability:
In Stock
Price: $175.00

Over 900 objects are illustrated in 264 color plates. The collection, assembled over 50 years by noted art dealer Forrest Fenn and his father, contains works of Plains and Southwest Indian art. The 64,000 word text by Dr. James Hanson covers the gamut of history, correcting myths and misinterpretations about native people. The work includes an amazing array of shields, shirts, war bonnets, dresses, moccasins, belts, bags, dolls, toys, quivers, jewelry, pots, masks, fetishes, and so on. A wide range of tribes and types of artifacts are included. 1994 Lowell Press. Cloth, large format, all color, 262 pp.
Write a review
Your Name:
Your Review:
Note: HTML is not translated!
Rating:
Bad
Good
Enter the code in the box below: